Hello! We are Nercocia. loungewear and nightwear brand.
Upcycle tear grass shells
In this issue, we will discuss the upcycling of Nercocia.
Nercocia. loungewear contains nuka oil of teardrop weed from teardrop weed, of which Oyabe City in Toyama Prefecture is the largest producer in Japan.
Astragalus nucifera oil is the oil made from the husks that are removed when the tear grass is refined.
Until now, there was no use for the husks, and the only options were to use them as fertilizer or throw them away.
We looked into the ingredients of the husks to see if they could be used for something else,
To our surprise, we found that the shells also contained the ingredients of teardrops!
The result of our painstaking efforts to extract the shells was the nuka oil of teardrops.
The concentration of ingredients in the efficacy is overwhelmingly different from that of teardrop extract, which is usually found in cosmetics and other products.
Nercocia's clothing is not only moisturizing and gentle to people, but also upcycled to make effective use of materials, and is environmentally friendly.
This time, we would like to introduce you to the special tear grass nuka oil that is blended with such special tear grass nuka oil.
Nercocia. double gauze pullover set-up.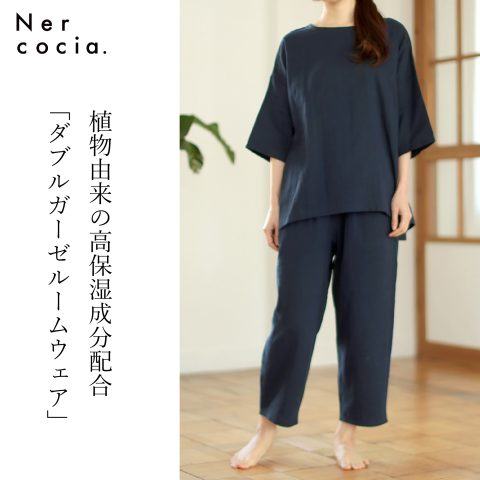 Since there is no collar, there is no neckline, making it a perfect item for spending time at home.
It is available in three colors: beige, navy, and striped.
This item can be viewed at the URL below.
https://nercocia.official.ec/items/43209299
How about this special wear as a reward for yourself or as a precious gift?
Thank you for reading to the end!