Hello, I am Nercocia! We are Nercocia. a loungewear and nightwear brand made in Japan!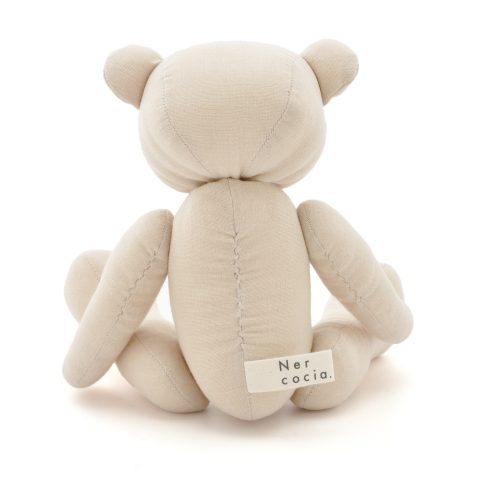 Upcycling and thoughts on Nercocia.
Nercocia. teddy bears have been available exclusively on the company's website since June 30.
Nercocia. is a Japanese factory brand that manufactures and sells loungewear.
There are many processes that go into the making of a garment, but we will focus on the cutting process.
Cutting is the process of making a paper pattern and cutting the fabric according to the pattern.
In this cutting process, there will be leftover fabric. This is called "cutting loss.
This cutting loss is what gave birth to the "Cutting Loss,
Nercocia. teddy bear
Teddy bears are soothing just by placing them in your bedroom or living room.
With the keyword of "you can't help but want to rub his cheeks," we have created "people-friendly" and "environment-friendly" stuffed toys. Reducing cutting loss is upcycling, and "environmentally friendly" is realized.
What do we mean by "people-friendly"? It means that we use fabric blended with Astragalus membranaceus nucifera oil. You may wonder what it means because it is blended in stuffed toys.
However, Nercocia wants everything to be gentle because it is used at home. Gentleness to people" is also Nercocia's desire.
Believing that Nercocia's thoughts will be conveyed to our customers and from our customers to someone else, Nercocia. will continue to accumulate small acts of kindness.
You can see this product from the following URL.