Disposal of the "garbage" that comes out of our daily lives as a matter of course consumes time and money.
Along with this, illegal dumping due to lack of disposal sites and illegal exports are often reported in the news and have become a serious problem in Japan.
The 3Ks of reduce, reuse, and recycle are being promoted in Japan in order to conserve resources as well as to create an eco-friendly, recycling society where individuals do not throw things away and do not produce waste.
Recently, sustainability and upcycling of clothing have been proposed.
Some of you may have heard of these concepts before, but may not have grasped the meaning of the words.
In this issue, we will introduce what upcycling means in terms of "the way clothing should be.
Let's think about how to dispose of old clothes and their relationship with the environment from a new perspective.
What is upcycling?
Clothes that have become zain old, torn or frayed can be remade and transformed into something new. It is very important to reduce the number of discarded clothes by increasing efforts such as remaking old clothes yourself. However, unused scraps are discarded as waste.
Similarly, designed and sewn clothes are sold in stores, but scraps and lint are discarded and disposed of as garbage.
Upcycling is the process of transforming something that would normally be considered "worthless" into something new and valuable, depending on one's ideas.
The difference between upcycling and remaking is that upcycling is the process of turning something into something that has asset value and is attractive as a product.
For example, using clothing that an individual owns to make a handmade pouch or bag is a remake.
You become a designer yourself and can create things with unconventional and free ideas.
Upcycling" is the process of increasing the value of a product by breathing life into something worthless, such as using waste materials to make thread and fiber to make clothes and bags, or using discarded clothes or dead stock cloth to make eco-friendly bags.
The fashion industry currently accounts for about 10% of the world's CO2 emissions, which is roughly equivalent to the CO2 emissions from agriculture.
Upcycling connected to the SDGs
Recycling is the process of turning waste materials back into raw materials before commercializing them.
It is well known that the popular "fleece" that everyone has is made from plastic bottles, but to reuse it as a raw material in this way takes time and money because it requires many processes.
By using what is discarded in the manufacturing process and reincarnating it as a different product, it is possible to create many different products from a single item.
If Japanese companies actively incorporate this upcycling process, they will be able to fulfill the SDGs that have been in the news: "Create a foundation for industry and technological innovation" and "Responsibility to create and use".
Why it is upcycled in the apparel industry
According to the "Ministry of the Environment's 2040 Survey Work on Fashion and the Environment" by the Japan Research Institute, 819,000 tons of clothing were supplied in Japan in 2020. Of that, 787,000 tons were disposed of.
Generally, unsold items, even popular items, are reduced in price and disposed of in inventory. It is the waste from households that poses a problem.
Although some recycling and reuse is done within the apparel companies, the reality is that the amount of waste carried out has been drastically reduced due to the Corona disaster, which has made it impossible to go out and dispose of items in the home.
In addition, the fast fashion fad has led to the purchasing and selling of large quantities of merchandise in a short period of time, which has resulted in excess inventory and waste.
In the fashion industry, the problem is not only product inventory, but also fabrics and scraps before they are made into products.
Various projects have been launched by apparel companies to reuse these discarded items.
Overseas, famous and popular brands are participating in the production of clothes using "fab scraps," which collect unwanted fabrics and scraps.
In Japan, creators and designers are upcycling their own dead stock items, and upcycled products are being commercialized through sales services and the launch of sustainable brands.
Thus, upcycled clothing will be offered by many apparel companies in the future.
Nercocia.'s upcycling efforts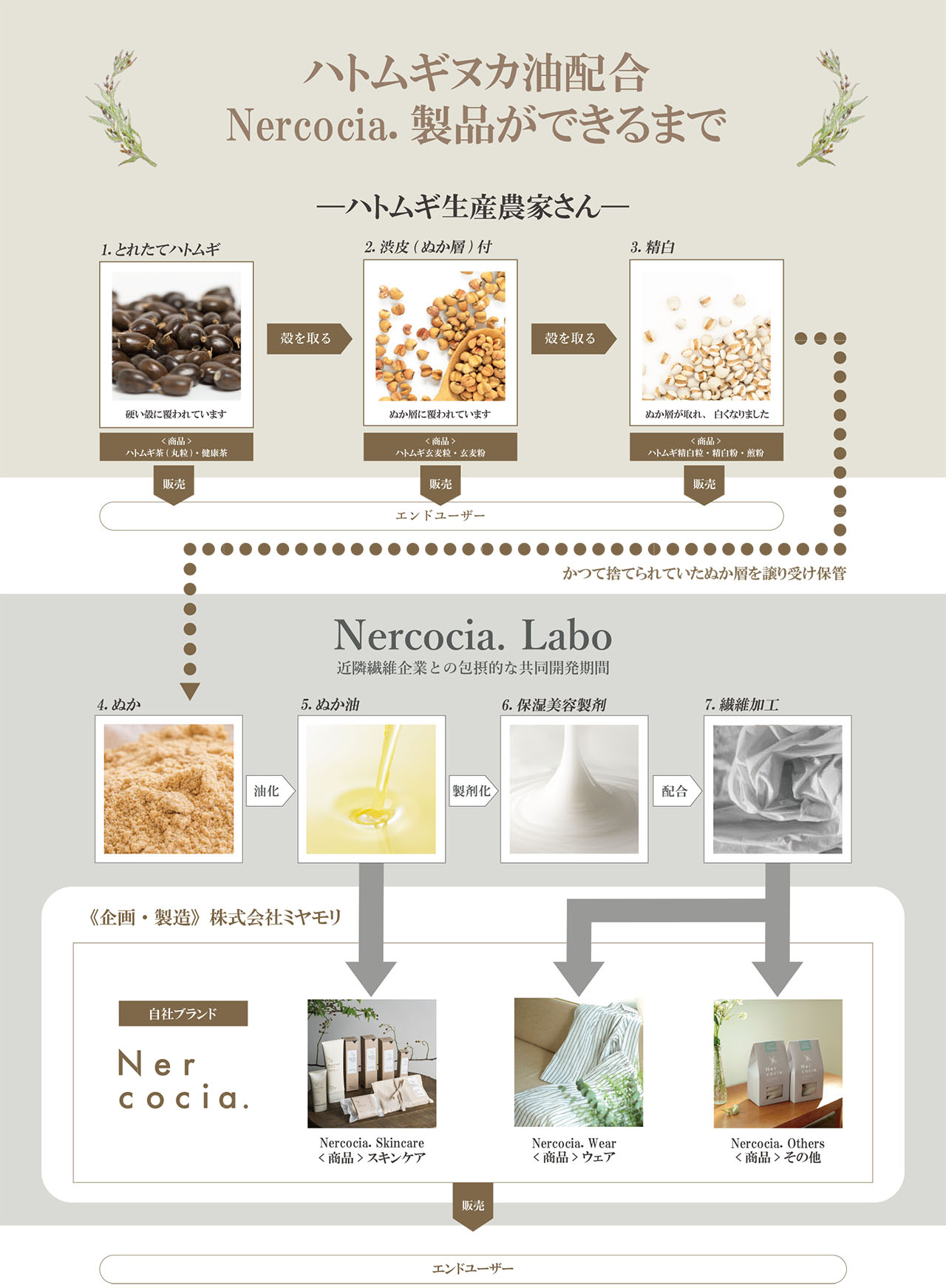 Astragalus membranaceus, also known as yokuinin, is produced in Toyama Prefecture, home of Miyamori Corporation, the manufacturer of Nercocia.
Toyama Prefecture is home to many Astragalus farmers, and the raw material for the prefecture's "Astragalus" Kampo yokuinin is produced in Toyama.
When Astragalus membranaceus is milled, "bran" is extracted. Rice bran has been used for soap, bath salts, cleaning products, and fertilizers, but Astragalus membranaceus bran has been discarded because no use was found for it.
Astragalus bran is more nutritious than rice bran and is rich in minerals and protein. Local companies, including Miyamori Corporation, have come up with the idea of upcycling this "Astragalus bran.
Miyamori Corporation is a company that has succeeded in extracting essential oil that contains luxurious components of Astragalus membranaceus. This "Astragalus bran oil" was the first in the world to be registered as a cosmetic product.
Miyamori Co., Ltd. has also succeeded in developing the moisturizing wear Nercocia. by processing fibers made of "Astragalus bran oil," which contains concentrated nutrients of Astragalus, with shea butter, olive oil, and other ingredients with excellent moisturizing power.
In addition to being pleasant to the touch, Nercocia. moisturizes the skin when worn, protecting it from dryness and preventing skin problems.
Nercocia. clothes, born from upcycling, have a special technology that makes it difficult for the effect to change even after repeated washing.
Not only does the fabric last longer, but clothes with a sustained moisturizing effect must be people-friendly and "value-added" upcycled clothes.
In this way, it will be important to incorporate sustainable clothing and to feel environmental issues firsthand.
In addition to Nercocia., Miyamori Co., Ltd. will continue to focus on upcycling by offering "industrial robot wear" and screeths (gym clothes for schools), and will continue to make great strides as a company that considers the future of the earth while working to realize a sustainable society and caring for the global environment.