When you get home from work, let alone on a holiday, you want to take off your tight jacket and let your body go. Some people may change into pajamas or loungewear. To relax your tired body, we recommend cotton, organic cotton, or silk, which are pleasant to the touch and comfortable to wear.
Fashionable nightwear that feels good against the skin, such as gauze fabrics with excellent heat retention and elasticity, are also good choices. Why don't you look for superb loungewear and pajamas that will melt your body and mind at Nercocia.
How to choose loungewear and pajamas
Loose-fitting design that does not constrict the body for a good night's sleep. Pajamas that are comfortable to the touch for relaxation. Design-oriented, comfortable, and fashionable designs are often seen in room wear, such as cute one-pieces and tunics and pants.
Recently, there are more and more wear that can be used as both loungewear and pajamas, allowing you to go out for as little as a convenience store.
To feel comfortable, you want to choose a design you like, a popular product, and one that feels good on the skin. While appearance and comfort vary from person to person, it is a good idea to refer to word of mouth and reviews when making your choice.
Choose by Style
Whether you choose pajamas or loungewear, it is important that it be something you can relax in your room. For women, a one-piece and pants or set-up type is the main choice, and for men, a set-up type is the main choice.
If you are raising a child, you may not have time to change into pajamas, so room wear that is stretchable, easy to move around in, and stylishly designed is preferred.
Men who work remotely more often may also want to use pajamas as loungewear, as they feel neat but not constricting. Elderly people and family members who need nursing care also need loose-fitting items. Choose products with features such as easy on and off.
Choose by season
Sweatshirts can be worn in spring, summer, fall, and winter, and are worn as pajamas or loungewear. Although you can control the cold and heat with innerwear, wearing the same thing all year round without a sense of season will make you feel uncomfortable.
For spring and summer, we recommend smooth organic cotton or silk, which is smooth even when in direct contact with the skin. In fall and winter, you will be wearing more layers, so fluffy fabrics with high moisture absorption and perspiration properties are recommended.
Select by Material
We sweat even while sleeping. If we wear underwear and innerwear, pajamas and loungewear do not get that dirty, but since they come in contact with our skin, we always want to keep them clean. In addition to texture, it is important to choose materials that are easy to wash, easy to dry, and do not lose their shape after repeated wear.
Natural materials such as cotton and silk feel good against the skin and make you feel instantly relaxed when you put your sleeves on. They also have moisture absorption, moisture retention, and heat retention properties, making them the best materials for pajamas and loungewear. If you have particularly dry skin, silk pajamas without underwear will make your skin smooth and smooth.
If you have weak skin and fibers make your skin itchy or flaky, you may choose organic cotton. Fluffy and soft organic cotton makes a great baby gift. It is a great gift to give as a baby shower gift with a set of pajamas and a gauze handkerchief, so be sure to check it out.
How Nercocia. loungewear is made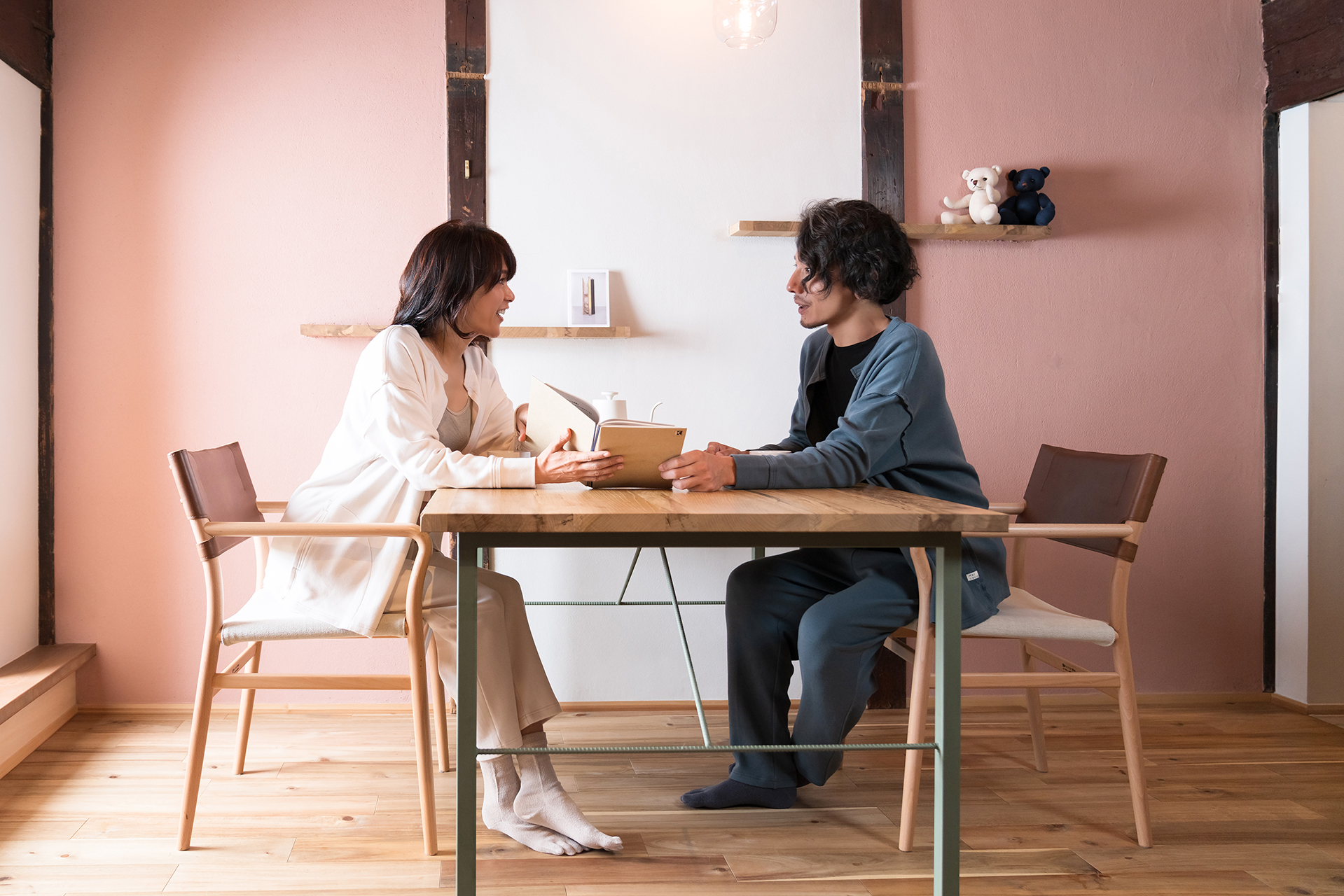 Astragalus, a specialty of Toyama, is highly effective for health and beauty. Extracts from Astragalus are well-known in skin care products and health foods. Leftover Astragalus bran has been discarded due to lack of use, but recently upcycling has been promoted by major companies from one aspect of environmental issues.
Miyamori Co., Ltd. has processed fibers to bind beauty ingredients including "Astragalus membranaceus bran oil" extracted from Astragalus membranaceus. In addition, the use of Japanese paper yarn, a natural fiber, not only makes the fabric environmentally friendly, but also makes it highly breathable, water-absorbent, and sweat-absorbent, and easy to dry.
Miyamori Sewing Factory has been a Japanese manufacturing factory since its establishment in August 1966, and Nercocia loungewear is carefully produced at the factory using the same techniques that have been cultivated since its establishment.
Nercocia. loungewear and pajamas recommended
Here is a selection of Nercocia. loungewear and pajamas.
Smooth Cotton(エイトロックスムース)
Made in Japan, this loungewear is made of 100% cotton and contains plant-derived moisturizing ingredients (astragalus root, shea butter, and olive oil) for a comfortable feel and fit. The smooth fabric has excellent elasticity, and the relaxed, minimalist design is suitable for both men and women. It is available in three solid colors: ivory, blue-gray, and mocha, and in sizes S, M, and L (see the online shopping site for details).
Cardigan without buttons 13,200 yen (tax included), Pullover 11,000 yen (tax included), Hoodie Henley Neck
 13,750 yen (w/tax), tapered pants 12,100 yen (w/tax), freely combinable. Please see our online shopping site for sizes and colors.
In spring, a pullover and tapered pants for a lightweight look, and in summer, a cardigan without buttons and tapered pants as an inner layer. In fall, a simple pullover and tapered pants, and in winter, a hoodie henley neck and tapered pants as innerwear to keep your neck warm.
Recycle Cotton Sweat(リサイクルコットン裏毛)
This loungewear is made in Japan from recycled cotton. The 100% cotton, plant-derived moisturizing ingredients (wheat germ, shea butter, and olive oil) give it a soft and gentle texture. The natural unevenness and undulation of the fabric gives it a high-quality texture with a USED feel, and the design does not look like loungewear. The pants come in two types: a wide silhouette and basic sweat pants.
Tops are available in a total of three types: a long cardigan, two types of pullovers, and off-turtlenecks. Overall, the oversized items are trendy and fashionable, and can be worn separately on the top and bottom. Please see our online shopping site for sizes and colors.
Lined Fur Off-Turtle 14,200 yen (tax included), Lined Fur Pullover 1,3200 yen (tax included), Lined Fur Pull Hoodie 15,400 yen (tax included), Lined Fur Long Carde 15,400 yen (tax included), Lined Fur Jogger Pants 13,200 yen (tax included), Lined Fur Wide Pants 14300 yen (tax included)
Pullover and wide pants in spring, pullover and jogger pants in summer, long cardigan and wide pants in fall, off-turtleneck and jogger pants in winter, etc.
This is also recommended as wear for stretching at home or coming home from the sports club, and will surely be useful as loungewear in the fall and winter.
Cotton Double-gauze オリジナルダブルガーゼ
This loungewear is made of light and soft 100% cotton double gauze fabric. Long-sleeved and short-sleeved designs available. Highly twisted yarn with excellent water absorbency and breathability allows you to spend spring and summer comfortably. Stripe and solid color patterns in a simple design that can be worn by both men and women. Choose from a front-opening pajama design or a loose-fitting pullover setup.
Pants are loose-fitting, relaxing type and can be adjusted with ties. The fabric contains plant-derived moisturizing beauty ingredients, including wheatgrass oil from Toyama Prefecture, to prevent skin from drying out and keep skin moist and protected. Please visit our online shopping site for sizes, colors, and prices.
W gauze Pullover Set up "Stripe" 19,400 yen (tax included)Short sleeve, W gauze Shirt Set up "Stripe" 23,100 yen (tax included)Long sleeve, W gauze Shirt Set up "Navy" and "Beige" 18,400 yen (tax included) pullover Set Up "Navy", "Beige" 15,480 yen (tax included) short sleeves.
Nercocia. for loungewear made in Japan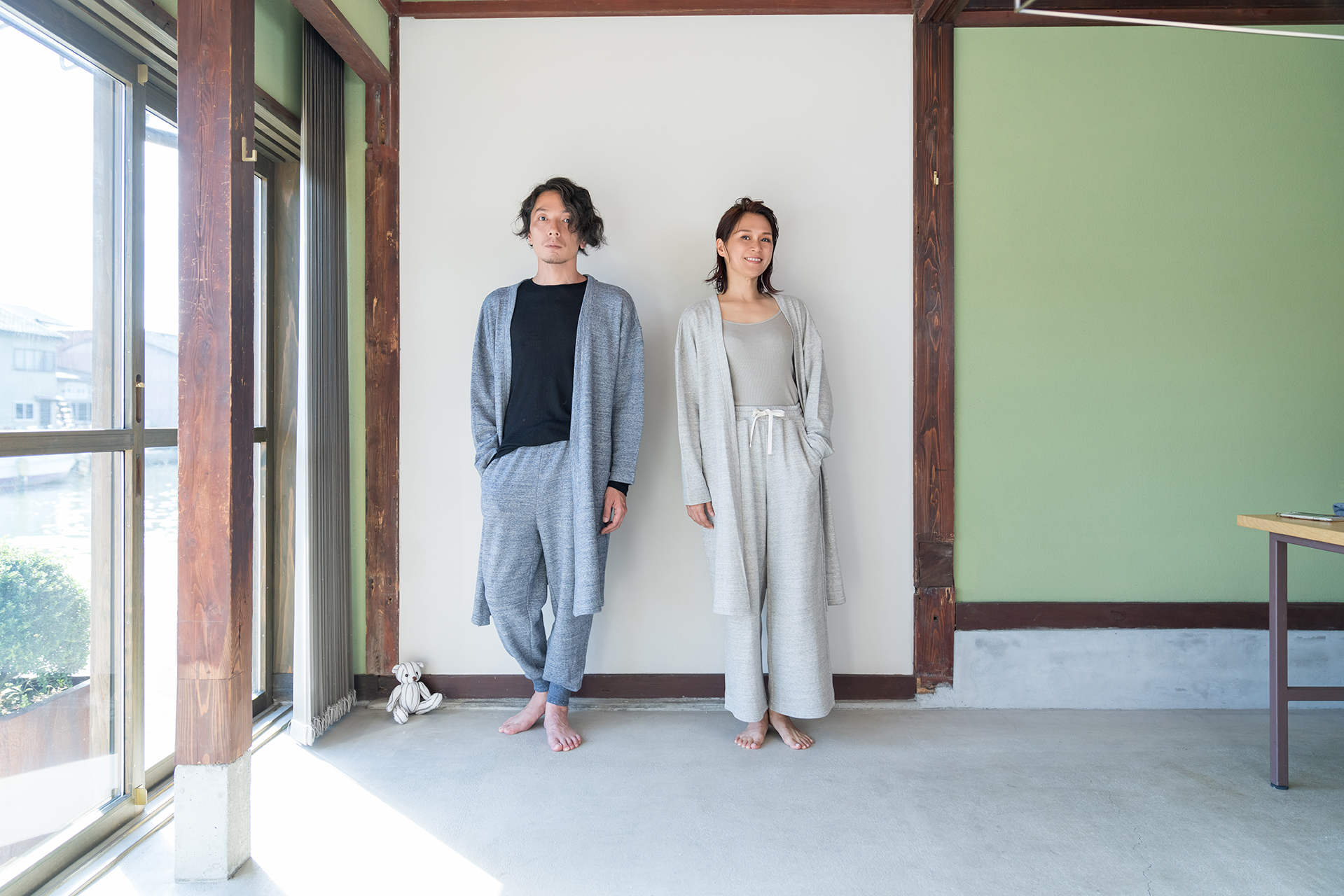 Nercocia. is of the highest quality in terms of comfort, feel, relaxation, and relaxation. Nercocia. offers a variety of materials that match the hot and humid climate of Japan. Stylish and high quality loungewear makes every day more enjoyable and makes you feel good. Why not choose the Nercocia. brand made in Japan as a gift for your loved ones or as a reward for yourself as an adult?
Miyamori Corporation's Commitment to Made in Japan
Miyamori Co., Ltd. is a long-established company that has been involved in the sewing of many apparel products in response to all kinds of needs, including planning and design by experienced pattern makers and support for secondary processing, and produces over 1 million pieces per year, with products manufactured under thorough quality control. We offer the finest loungewear with our sewing know-how cultivated over many years.
Nercocia. was developed through the encounter of wheat grown in rich soil and reliable fiber technology cultivated over many years, and brings gentleness to your life.
Easily familiar to Japanese people
If produced domestically, fabrics and patterns can be tailored to the Japanese body shape and preferences.
Many foreign brands are indeed glamorous and luxurious, but the fit of the items is different, and the prices are high and do not always match Japanese people.
Products made in Japan can be made with fabrics, materials, designs, and sewing to Japanese tastes. In addition, Japan has many craftsmen with advanced sewing skills, which are passed on to their successors.
We hope you will experience Nercocia. produced by Japanese fine-grained and careful craftsmanship.