June is the season of high temperatures and humidity, and it is easy to feel uncomfortable.
With the continuing gloomy skies and rain, it is a time of year when it is easy to feel down and depressed. Many times, things that would normally be normal can become irritating, and you may find yourself exploding or feeling unmotivated for some reason.
Even in such a situation, we should not be in a hurry to find out the reason why things happen. We will show you how to get over it in a good mood by knowing the reasons and using Nerccia.
We will show you how to get over it in a good mood.
Poor health in the rainy season
Weather is closely related to our bodies, and it is a time when both body and mind are susceptible to colds. It is a state of stress on the body as it tries to adapt to atmospheric pressure, temperature, and humidity.
When the atmosphere is low, the body's parasympathetic nervous system becomes dominant, the body goes into sleep mode, and symptoms such as "sleepiness" and "sluggishness" appear.
Low pressure also increases the secretion of "histamine," which causes pain, and one in three people have experienced physical problems during the rainy season, making them more prone to headaches, fatigue, tiredness, and irritability. The body's metabolism slows down and the circulation of water in the body tends to slow down, which can easily affect the digestive system.
In addition, during the rainy season, daylight hours are shorter, which reduces the secretion of serotonin, which controls the sense of well-being, due to the stimulation of light, which often results in unstable emotions, such as difficulty sleeping or irritability.
The humidity is high and allergies and mold can occur, which can cause problems for the skin.
During the rainy season, high temperatures and humidity create a favorable environment for mites to breed. Mites prefer a temperature of 20~30℃ and humidity of 60~80%.
They are especially abundant in highly absorbent materials and places such as tatami mats, carpets, futons, sheets, and clothing. To prevent allergic symptoms and itching caused by house dust, it is important to clean and ventilate regularly and to keep bedding and clothing clean.
The use of dehumidifiers and central heaters to remove moisture is also helpful.
Useful items for rainy season
The rainy season is a time when both the body and mind can easily fall ill, but by using Nercocia's Astragalus items, which are useful in such situations, you can get along and get through it.
By using Nercocia's Astragalus products, you will be able to deal with the problems of the rainy season and get through it.
①Check the discomfort index
The official website of the Japan Weather Association, which quantifies daily discomfort, has a daily updated "discomfort index" calculated from temperature and humidity. First, check here to see the daily discomfort index.
②Wear that eliminates stickiness
During the rainy season, even wearing a single T-shirt feels sticky and heavy.
We focused on "Japanese paper material" in order to create a piece of clothing that would be nice to have at such times.
Washi is a highly functional material that has been valued in Japan since ancient times, and is well known for its use in shoji screens, fusuma (sliding doors), and books. Today, its functionality is attracting attention, and it is used in a variety of manufacturing processes.
Washi has the ability to regulate humidity according to changes in the environment, is breathable, absorbs water, dries quickly, is light and durable, and is recognized for its excellent deodorizing and antibacterial effects.
By using washi as a fabric, it has evolved into even more multifunctional clothing, and is even used in clothing for space stays. Focusing on this Japanese paper, Nercocia. introduces clothing made by combining Japanese paper and astragalus membranaceus in fabrics.
Nercocia.

Washi Blend Wear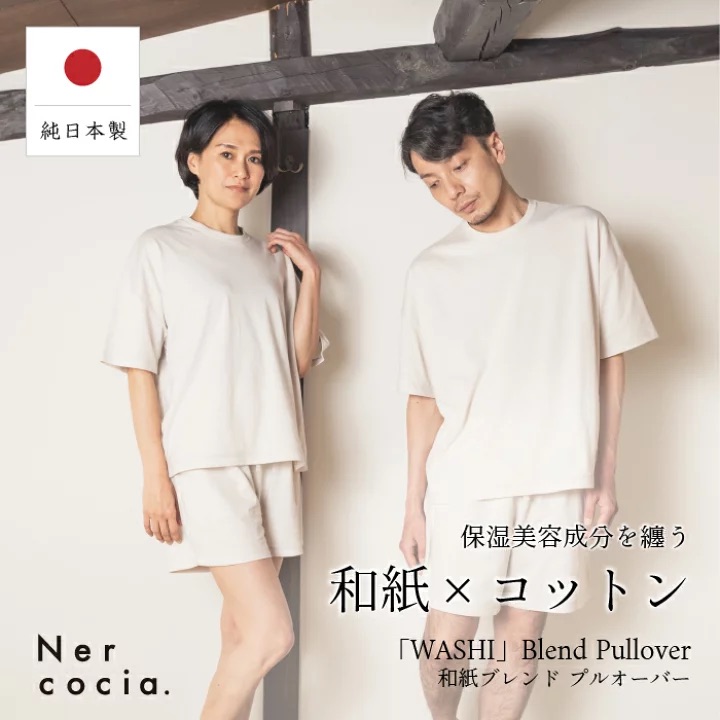 The unique firmness of Japanese paper, the general properties of Japanese paper that prevent bacteria from multiplying, antibacterial properties, odor resistance, 80% UV protection, and a feeling of dryness and comfort with little steam.
It has antibacterial action, odor resistance, 80% blocking of ultraviolet rays, and is light and comfortable to wear.
It absorbs perspiration and dries quickly to prevent steaming, and the fabric is made of wheat to keep the skin moist and protect it from drying out.
The light comfort of washi paper and the moisture retention effect of adlay gently wrap the skin, making it an environmentally friendly and useful item of clothing to have around this time of year.
③fragrance
cent is transmitted to the brain's limbic system, hypothalamus, and pituitary gland. The hypothalamus is a very important organ that controls the autonomic nervous system and hormonal balance. Scenting directly affects the hypothalamus, thereby balancing the autonomic nervous system and hormones, relieving physical tension, and relaxing the body, so that through skillful use of scents, self-control is possible even during the rainy season. Recommended scents include lemon, orange, and other citrus scents, which are said to be motivational scents.
And even though it is rainy and gloomy, unfortunately UV rays are still strong, and skin moisturizing must not be forgotten. This is where Nercocia. body cream comes into play. Many customers say that every time they moisturize, the citrus scent soothes them and makes them want to use it again and again.
Nercocia.

Tear grass Body Cream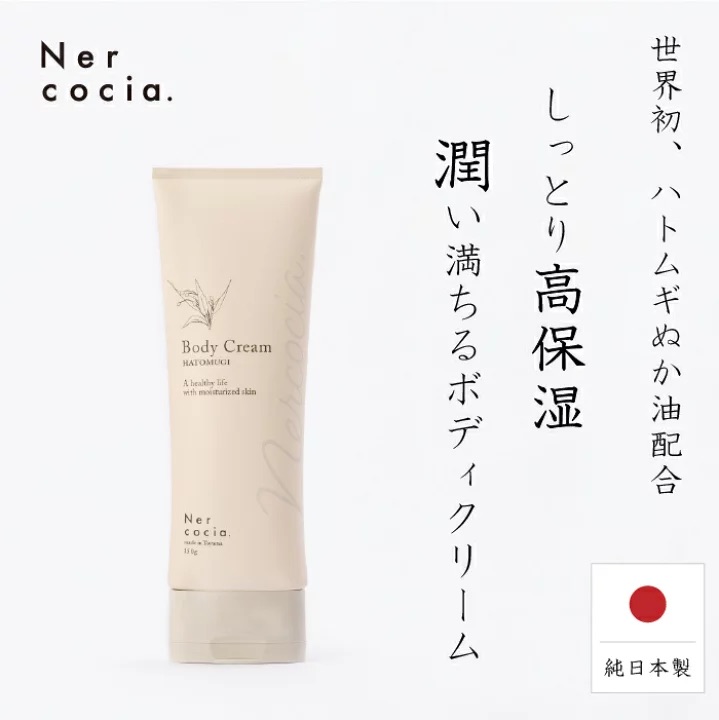 In addition to Tear grass bran oil, it contains jojoba oil, cherry leaf extract, macadamia nut oil, which prevents skin dryness and retains moisture, ceramide, Toyama Bay deep sea water, which leads to healthy skin, and hinokitiol. The refreshing feel and citrus scent of this refreshing product will lift your spirits every time you use it.


summary
When you feel a change in your physical condition, such as feeling somewhat unmotivated, depressed, or easily tired, please remember that the weather during the rainy season affects you.
We recommend that you first have your own items to create a relaxing environment without being in a hurry, and we will be more than happy if you can use Nercocia.wheatgrass items and enjoy your daily life comfortably and happily.